Regular price
$10.00 USD
Sale price
$7.99 USD
Unit price
per
Sale
Sold out
Premium Astro Tech CA Glue Accelerator.  Comes in a 2-oz (56-gram) bottle with a pump sprayer.  A necessity for nearly all ring makers!  This will instantly solidify the glue on your rings.  This product can change the curing time of CA glue from 1-2 hours to 1-2 minutes.  Glue won't be left sticky or runny when product is used properly.  See our YouTube Channels for tips and how to make a ring!

Note to our International Customers:   If we are shipping liquids (like Accelerator) to you outside of the USA, Canada, or the UK, we recommend choosing our "UPS" shipping option at checkout.  The shipping will cost a little more, but many international postal services won't accept liquids from another country.  "UPS" does generally arrive very quickly, around 3-4 days almost anywhere in the world, so you will also get your package faster!  If you are confident that you will be able to get liquids past your Customs inspections through the postal service, you can choose USPS as your shipping.  Thank you for your understanding!
Share
View full details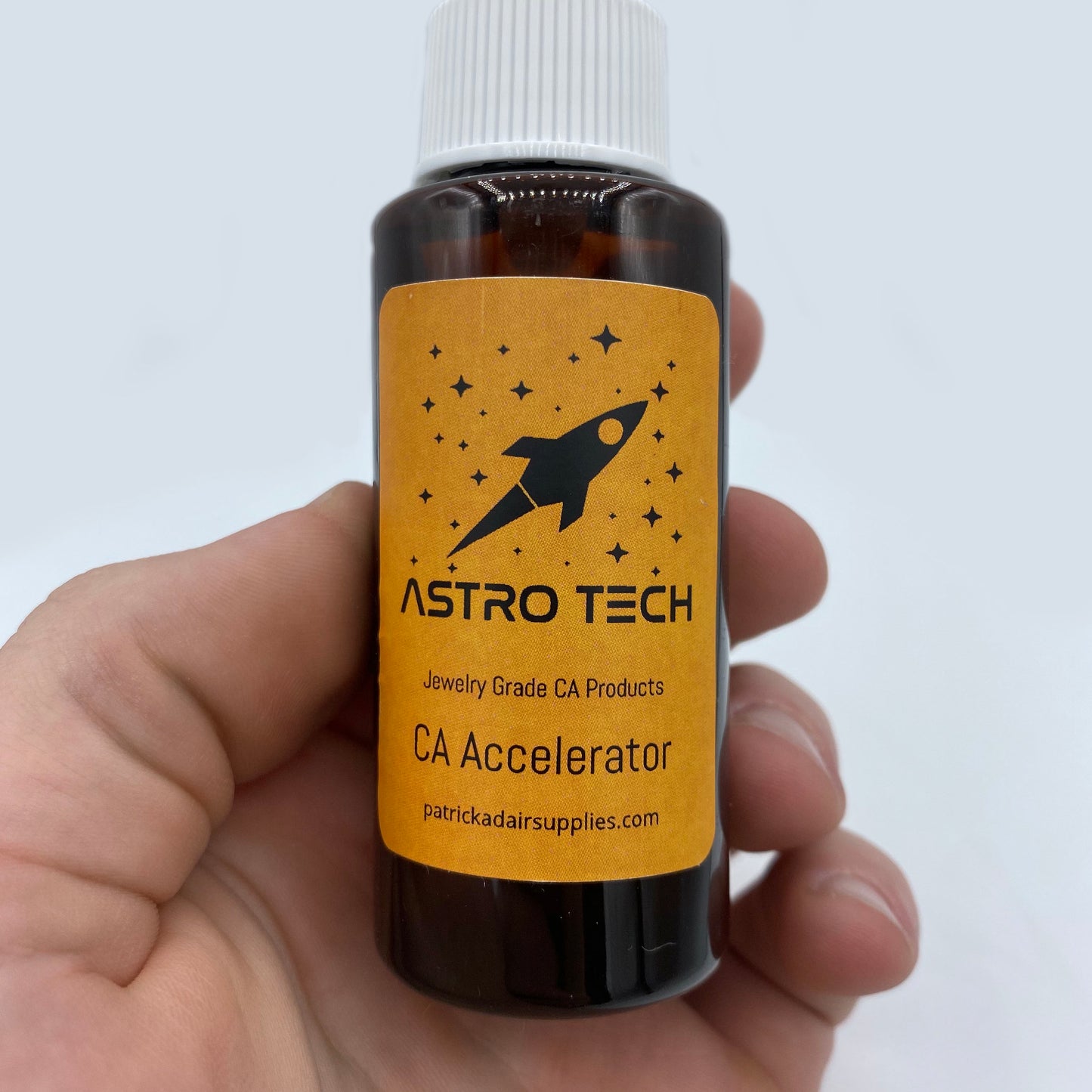 Great!
Patrick Adair Supplies glue accelerator is an excellent product. I will definitely buy again.
Bulk deal
Just think when someone is buying a bulk order of the glue, or tools, there should be lower price.
Thanks for your input, Justin. With internet availability our prices already have low profit margins. If you're looking to purchase multiple glues, you can customize our CA Glue 3-Pack to include any combination of glue viscosities you prefer. ~Sarah
Astro Tech CA Glue Accelerator
This Astro Tech CA Glue Accelerator is brilliant it really does give a very fast reaction time when looking to create an instant cure, Weather making rings as an armature or professionally this Accelerator will be an asset to your ring making
Thanks for leaving a review, Eric! The Accelerator is a great asset to any ring maker, we're glad to hear you're enjoying it! We can't wait to see what you create next! ~Sarah
Astro Tech CA Glue Accelerator
This glue accelerator is used on every ring we make. It is absolutely an essential ingredient for successful inlaid ring making!
Thanks for taking the time to write a review, John! ~Sarah