Regular price
$169.99 USD
Regular price
$200.00 USD
Sale price
$169.99 USD
Unit price
per
Sale
Sold out
The Ultimate Set includes all four highest-quality, stainless steel Expanding Ring Mandrels and a hex key.  It serves the full range of common ring sizes and offers significant cost savings. 

These Expanding Ring Mandrels were custom-designed by Patrick Adair to meet a ring maker's special needs.  The varied steps offer plenty of space to work on many styles and sizes of rings.  The expanding aspect of the tool holds a ring blank securely, allowing for a high level of precision during all phases of ring making.  These mandrels withstand sanding abrasion much longer than regular steel and will not rust.  Each shaft is 1/2" in diameter and is designed to work in a lathe or a drill.  The length was kept short so the full tool remains true while spinning.  
1. Small - Recommended for sizes 4.5, 5, 5.5, 6, 6.5, 7.
2. Medium - Recommended for sizes 7.5, 8, 8.5, 9, 9.5, 10, 10.5.
3. Large - Recommended for sizes 10.5, 11, 11.5, 12, 12.5, 13, 13.5 
4.  Extra Large - Recommended for sizes 13.5, 14, 14.5 15, 15.5, 16.
Share
View full details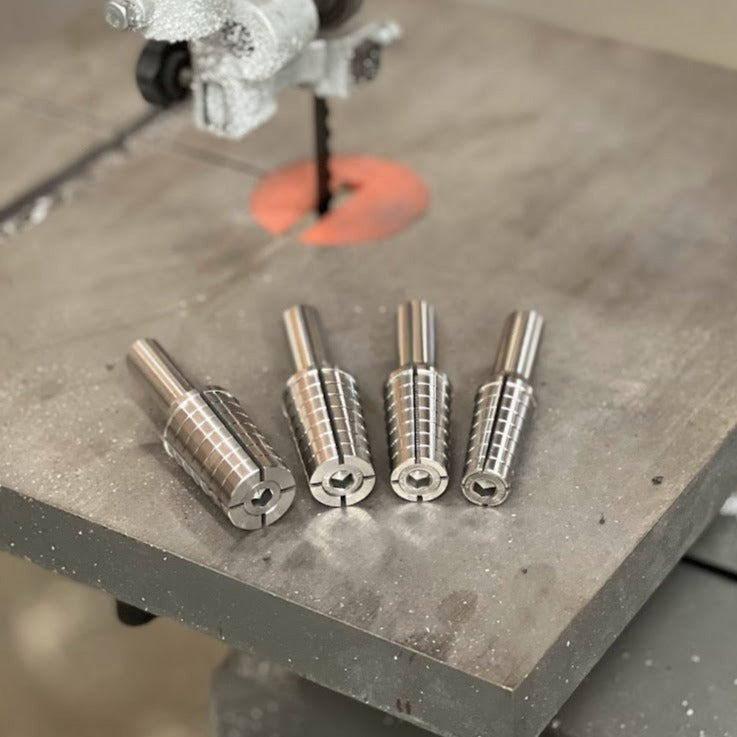 Works perfectly
Does exactly what it was intended to do. I have made a few rings on the largest mandrel and it seems to work perfectly.
10/10
Before these I would inlay and finish the ring before cutting it off the stock and finishing the inside, this caused a lot of failures. Now I perfect the inside, mount the ring on the mandrel and do everything else, it's worlds easier to finish rings on the mandrel! No slips when using grooving tools for inlay channels so far really happy with them, a must have for any ring maker
We appreciate you leaving a review, Gabriel! We're thrilled to hear the mandrels are working great for you and can't wait to see what you create next. ~Sarah
Wonderful! Thanks for leaving a review!
Sarah
PAS Support
Perfect addition for my lathe.
The multiple sizes with the kit are perfect for making different size rings.
Thanks for writing a review, Ojiisan! ~Sarah