Regular price
$349.99 USD
Regular price
$899.99 USD
Sale price
$349.99 USD
Unit price
per
Sale
Sold out
The opal 75-pack offers an enormous range of color options!  You will be getting nearly every opal color we sell! 
You're getting a huge discount buying the 75 pack too, it works out to under $5 per gram!  
Your pack includes all the popular colors from our 5, 10, 25, and 50-Packs, plus our 25 remaining opals.
Until July 20, 2023, Neon Green will be replaced with Permafrost.
Includes our Opal 50-Pack
Plus these 25 colors:

Black Emerald
Black Fire
Blood Orange
Crimson Red
Deep Space Blue
Dragon Scale
Ember
Lavender
Pearl White 
Sonic Gray
Arctic Blue
Blue Fire
Bubble Gum Pink
Cobalt Blue
Comet Gray
Coral
Crushed Pineapple
Cyan Green
Inferno
Lava Rock
Neon Green
Onyx Green
Periwinkle
Unicorn Blue
Unicorn Purple
Bahama Blue
Blue Charcoal
Blush
Butterscotch Gold
Cherry Blossom
Dragon Fruit
Egyptian Blue
Fuchsia
Glacier White
Hot Pink
Lime Rickey
Magenta
Magic Lake
Marigold
Mint Green
Olive Green
Orchid
Peaches & Cream
Peacock
Pine Green
Pink Lemonade
Pistachio Ice Cream
Salmon
Sky Blue
Spring Green

Amber
Azure Blue
Bermuda Blue
Blue Graphite
Blue Raspberry
Burberry Purple
Candy Apple Red
Carmine
Cotton Candy
Electric Purple
Ivy Green
Jade
Lemon Drop
Lime Green
Mercury
Olympic Blue
Orange Crush
Plum Purple
Popcorn Yellow
Ruby Red
Sangria Red
Sea Green
Taffy
Tangerine
Teal Blue
You'll receive 1 gram of each color, which is enough to make 2-3 rings in most circumstances.  

If you'd like to make a custom 75 pack, feel free to send our support team an email support@patrickadairsupplies.com.  You can also leave a note on the cart page with any customization.  Also check out all our bulk opal options below!
Opal Pick Your Own 5-Pack $44.99
Opal Pick Your Own 10-Pack $69.99
Share
View full details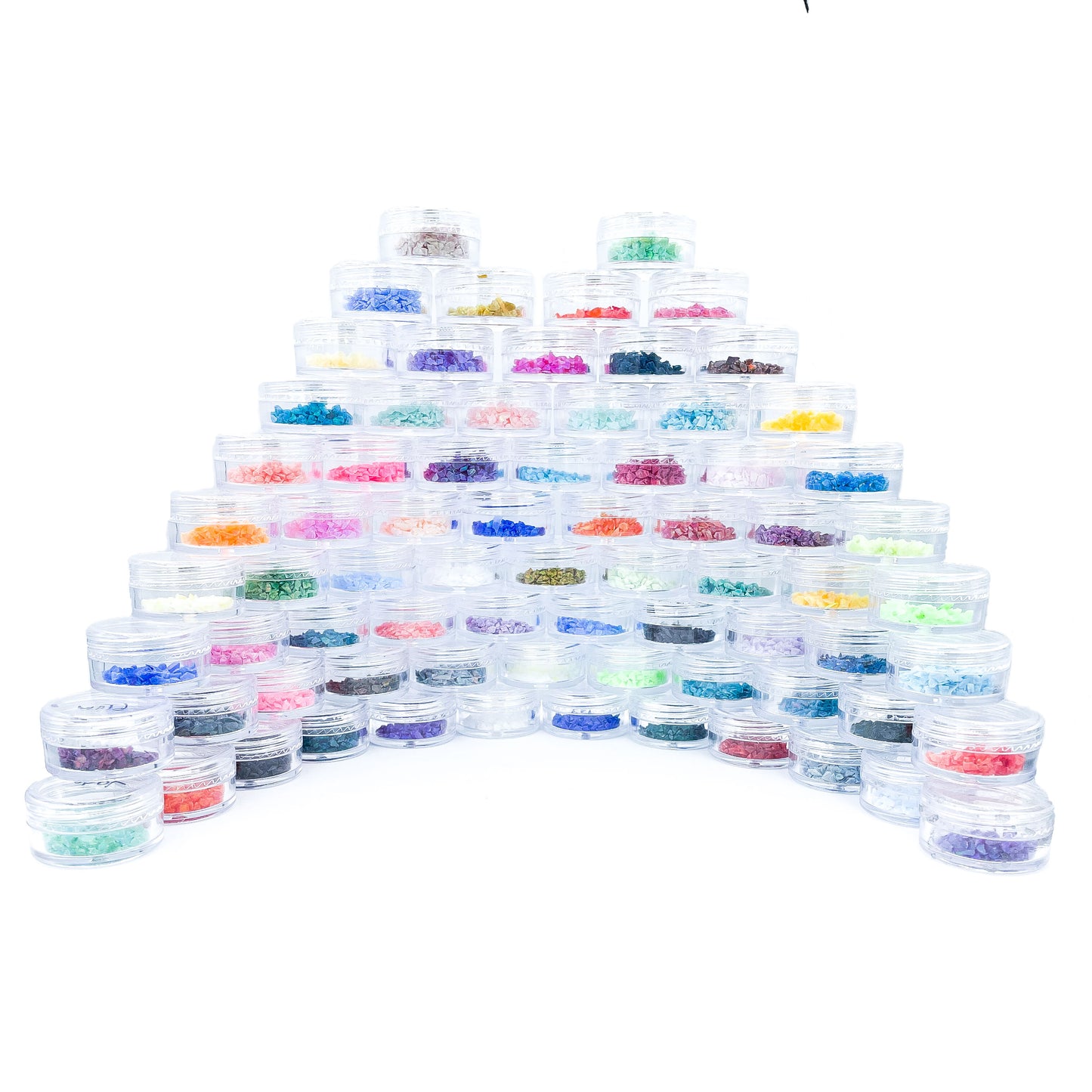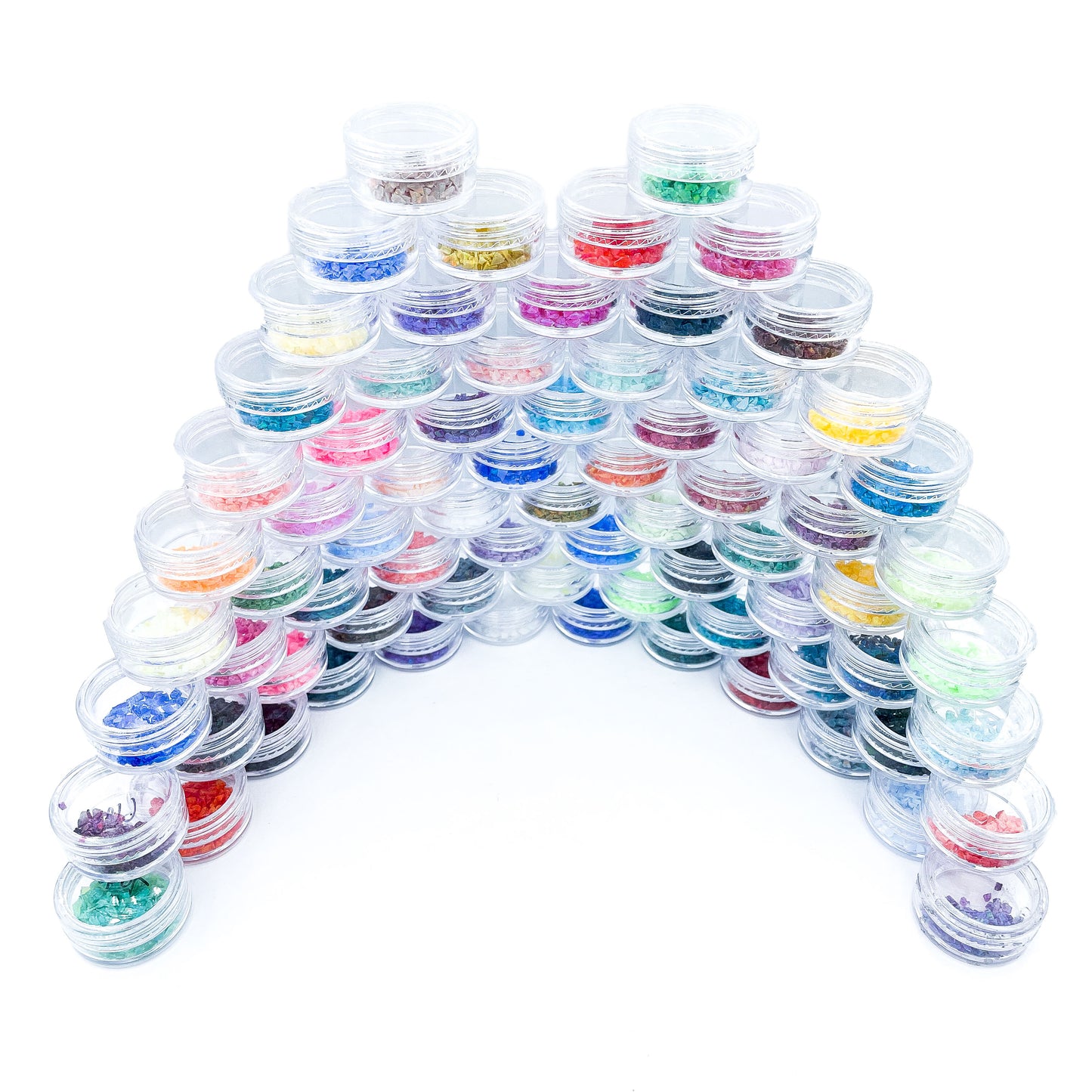 My last order
The Opal 75 pack is great. I really like all the different colors. Really glad that I finally broke down and bought them. The inlay pack and diamonds are just as remarkable. I will be ordering more as my supplies dwindle.
We're glad to hear your enthusiasm about your supplies, Robert! The possibilities are infinite with all of your new supplies! We can't wait to see what you create! ~Sarah
OPAL 75-PACK
When I received the 75 pack of opals there were 2 containers of one color and 1 missing container of opals. I contacted Customer Service and they immediately sent the 2 missing colors and told me to keep the duplicate container of opals. You can't beat that kind of service in my opinion.
Awesome!!
I love all the products I have purchased and the customer support team is spot on! No stone goes unturned! The customer satisfaction is firs and foremost! The products are second to none! The best on the market!
Sonia, thank you so much for taking the time to write such a nice review! We work hard to provide the best products and services because we believe our customers deserve the best! We're grateful for customers like you! ~Sarah